Dr. Uday Salunkhe, Group Director - Welingkar Institute of Management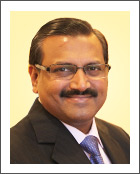 A leader and a visionary, Dr. Uday Salunkhe is famous for his role as Group Director of the reputed Welingkar Institute of Management Development and Research (WeSchool) present in Mumbai and Bangalore. Having strong working experience with prominent organisations like Mahindra & Mahindra and ISPL to name a few, Dr. Uday Salunkhe associated himself with WeSchool in 1995. Being a mechanical engineer, he also possessed a management degree in Operations and a Doctorate in Turnaround Strategies which makes up for over 20 years of strong academic experience. Dr. Uday Salunkhe earned his doctorate in Turnaround Strategies for Sick Companies, a laurel that helped him lead WeSchool, run by Shikshana Prasaraka Mandali (SP Mandali), one of the top B-schools in the country. Being appointed as a Director, Dr. Uday Salunkhe brought more than expected to the success of WeSchool by the year 2000. His constant passion, commitment and dedication towards the institute made him the Group Director of WeSchool and it has been a great journey of success since then. He is constantly exploring new and innovative techniques to mentor students at WeSchool so that they are well equipped with the required tools at the global platform and also successful through quality education at their disposal.
Prof. Dr. Uday Salunkhe has been instrumental in launching one of its kind Post Graduate Programs at WeSchool. He introduced new courses like E-biz, Business Design, Retail, Media & Entertainment, Healthcare and Rural Management in addition to launching Innovation Lab (InnoWe) and initiatives such as Global Citizen Leader Program.
Dr. Uday Salunkhe holds a strong reputation for Management Education in India and abroad. Such is his respect that he has been a visiting faculty to the Harvard Business School and European University in Germany and has also conducted seminars at the Asian Institute of Management in Manila. For his outstanding work and contribution, the 12th Annual Convention on Leadership has conferred the the 'Professor Dharni Sinha Memorial Award for Excellence in Management Education' to him. In addition to this, Dr. Uday Salunkhe has also been awarded 'The Young Achievers Award' in the field of Academics by the Indo-American Society. Dr. Uday Salunkhe's life has been influenced by the teachings of Jack Welch and Arya Chanakya and his work reflects these teachings strongly.
Currently, Dr. Uday Salunkhe holds the position of Chairman of the Ad-hoc board of studies in Management Courses of Mumbai University. Apart from being an executive board member, he has also been the chairman of the Local Management Committee of the Association of Management Development Institutions in South Asia (AMDISA), a South Asian Association of Regional Cooperation (SAARC) initiative. Dr. Uday Salunkhe took charge of the Association of Indian Management Schools (AIMS) as President of what is the second largest body of management schools in the world with over 500 active members for the year 2007 – 2008.
WeSchool was ranked 10th in India by the Times of India B-School survey in 2015 all thanks to the leadership and vision of Prof. Dr. Uday Salunkhe.
Earlier in 2010, Hindustan Times Best B-Schools in India survey had awarded WeSchool the 7th Rank in West India and 16th rank overall in India under India's Top 50 Business Schools. It is because of Dr. Uday Salunkhe's impeccable vision, leadership and commitment that Welingkar Institute has won a lot of laurels such as the 8th position in the private B-School category by Outlook in the B-School survey in 2008, 3rd in Student Exchange Program category and 7th in Faculty Exchange Program category.
Prof. Dr. Uday Salunkhe's vision and result oriented thinking has made WeSchool a name to reckon with in India as well as abroad. He was been the torch bearer for Welingkar and has created a brand out of WeSchool such that today it has been nominated for and also won various awards for excellence in Management Education. His contribution towards education as a whole has been applauded. A thought leader who keeps extending his expertise to students, Dr. Uday Salunkhe's several articles on leadership, career, management and skills have been published by numerous national publications and business dailies.